Big Top Radio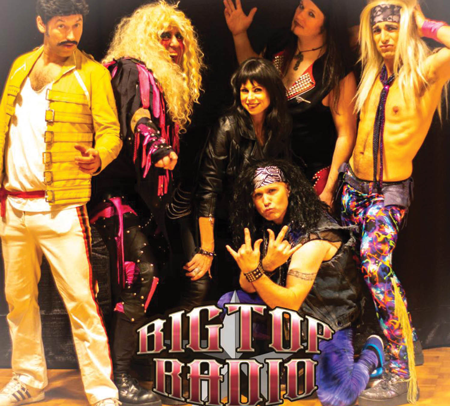 Let BIG TOP RADIO take you on an adventure from a time where big arena rock shows were made to be a spectacle. From authentic costuming, impeccable mannerisms, to their spot-on replication of all of the big 80's rock anthems you know and love. Big hair, big makeup, spandex, lipstick, and a dusting of humour wrapped into the most authentic 2 hour plus arena rock show you will never forget!
Audiences will experience an abundance of costume changes throughout this spectacle. Experience the hits of Poison, AC/DC, Alice Cooper, Queen, Journey, Bon Jovi, Scorpions, Motley Crue, Twisted Sister and more!! Let us take you on a fun and stimulating journey that will leave your body tingling for days!
These giant rock icons are supported by 7 hard-core 80's hair metal loving musicians: Koz, Jiz, Roxxxy, G-Spot, Terry Vain, and the fabulous TJ Pepper. The cast is further strengthened by their ever-commanding Ring Master, THE OVERLORD!!
The BIG TOP RADIO experience is all about taking you on a journey and forging new lifetime memories with every show!
Check us out here!