The Wolf's Halloween Howl featuring the Watchmen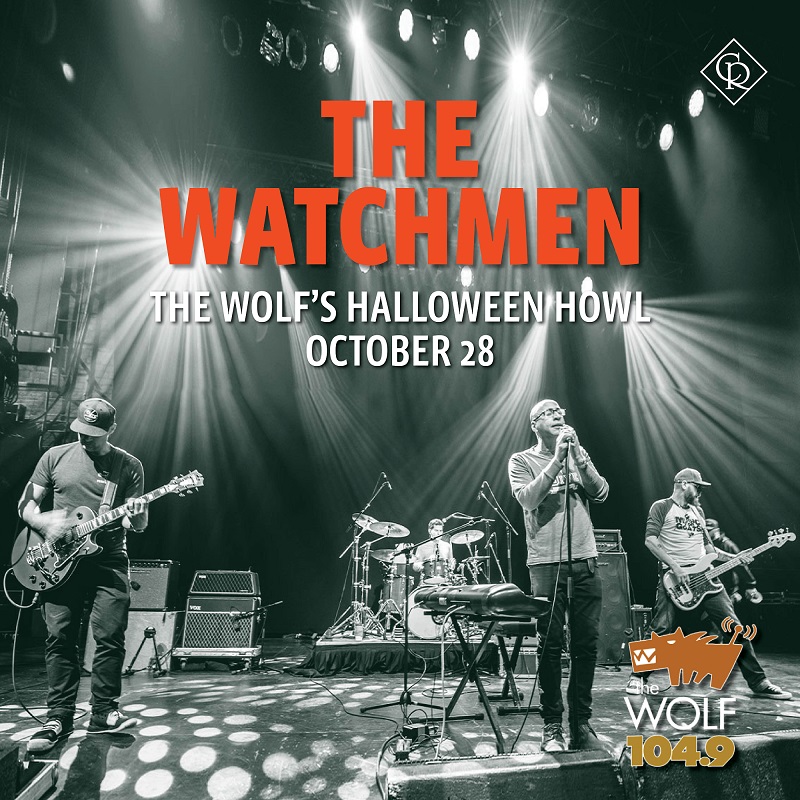 The Watchmen are a four-piece rock and roll band from Winnipeg, Manitoba made up of Daniel Greaves (vocals), Ken Tizzard (bass), Joey Serlin (guitar) and Sammy Kohn (drums).
The band caught the attention of Chris Wardman while playing at Toronto's Horseshoe Tavern. Wardman offered to produce the band, and they released their debut album, McLaren Furnace Room, in 1992 via Wardman's Sumo Productions with distribution through MCA records. The single "Cracked" garnered the band significant airplay on rock stations but was quickly eclipsed by the anti-spousal abuse anthem "Run and Hide," which became the band's breakthrough hit.
The band's second album, In The Trees, was released on MCA records in July 1994. The record was a major success, confirming the band's place in Canadian rock with the hit singles "Boneyard Tree," "All Uncovered" and "Lusitana." The album was certified Platinum in Canada, after selling over 100,000 copies, and garnered a nomination for Group of the Year at the 1995 Juno Awards.
Their 1996 album Brand New Day included singles "Zoom," "Incarnate" and "Shut Up." The band toured extensively through Canada and Europe which lasted into 1997. The album was nominated for North Star Rock Album of the Year at the 1997 Juno Awards.
Following Brand New Day, the band left MCA records and was signed to EMI. Working with Adam Kasper (Nirvana, Soundgarden, The Tragically Hip) in Seattle's Studio Litho (owned by Stone Gossard of Pearl Jam), they released Silent Radar in 1998. With the hit singles "Stereo," "Any Day Now," "Brighter Hell" and "Say Something" the album quickly went Gold in Canada and received their third Juno nomination for Best Rock Album in 1999.
2001 saw the band begin to experiment with electronic elements with the release of Slomotion, featuring hit single, "Absolutely Anytime." The album debuted in the top 10 and subsequently went Gold.
In 2017, the band released their first live album with the digital and vinyl release of Live and In Stereo, which cracked the top 5 on Canada's vinyl sales chart.
With 30+ years under their belt, The Watchmen continue to sell out venues across Canada with energetic shows that are stacked with their hits, classic covers, and invariably a haunting a cappella performance by Greaves that captivates any audience.
The band is active with their fans through social media, sharing rare photos and even a full-length live show download from a performance in Australia. In 2021, they were honoured with an induction into the prestigious Western Canadian Music Hall Of Fame. This year, they celebrate the 25th anniversary of Silent Radar. Follow @watchmenband on Instagram and @thewatchmenband on Facebook.
Featuring: Nick Faye and the Deputies