Walk the Walk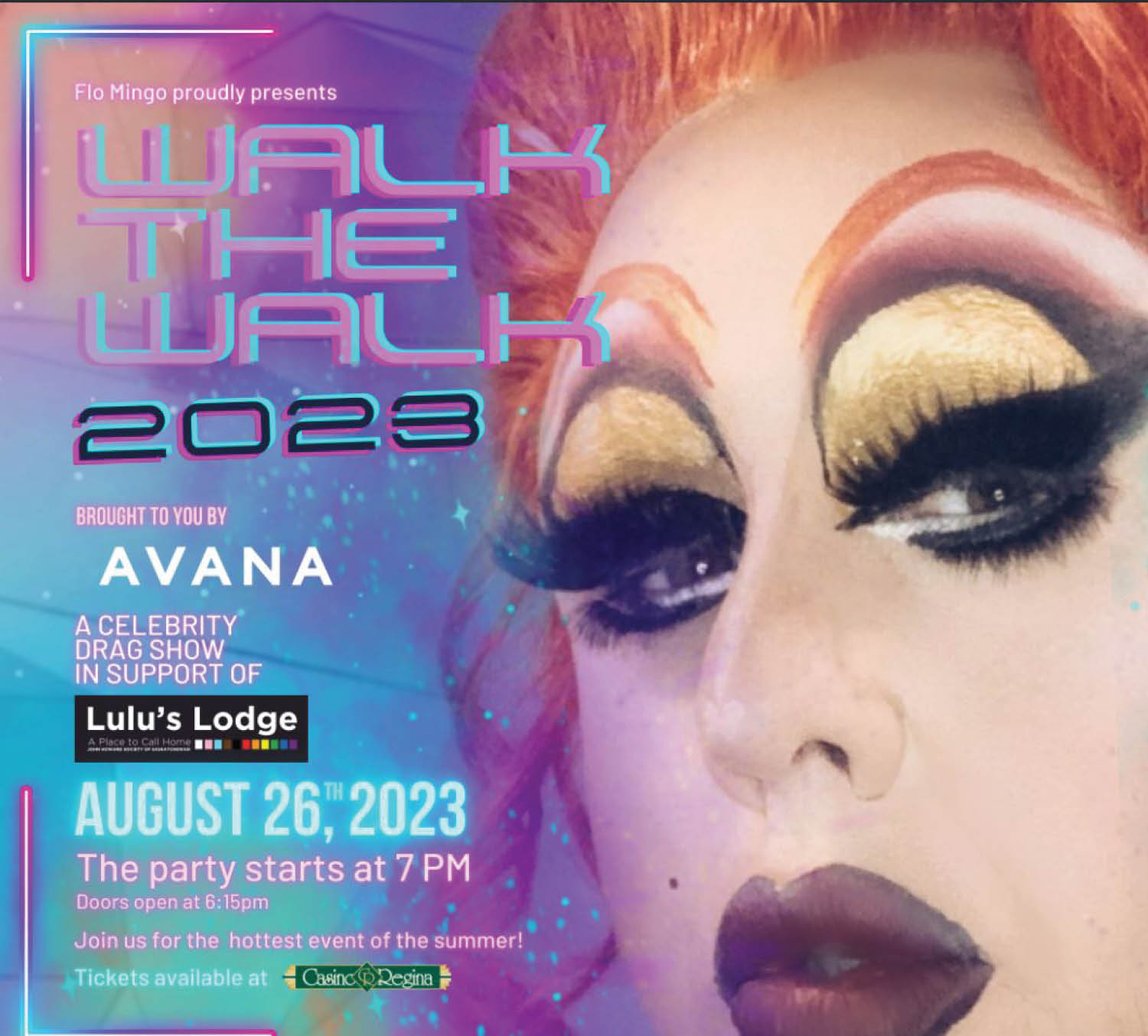 Flo Mingo and the John Howard Society of Saskatchewan proudly present Walk The Walk 2023 brought to you by Avana.

"Walk The Walk is a celebrity drag show hosted by Flo Mingo in support of Lulu's Lodge, the only LGBTQ2S+ transitional youth shelter in Regina, operated by John Howard Society of Saskatchewan (JHSS).

Date: August 26th
Doors: 615pm
Showtime: 7pm
Location: Casino Regina Show Lounge (1880 Sask Dr.)

We are turning up the heat in 2023, bringing Lulu's Lodge supporters an amazing evening of entertainment and fun from local celebrities and their drag mentors. Celebrity contestants will hit the stage in FULL DRAG, fighting to be crowned Mr./Ms./Mx. Walk the Walk 2023! Here are this years performers:

Chase Hussey: Host, Pure Country Mornings on 92.7FM
Jodi Robson: Baker extraordinaire, finalist on The Great Canadian Baking Show
Cole Davenport: Anchor, CTV News at 5
Lynn Robertson: Pastor, Christ Lutheran Church
David Belof: Saskatchewan Managing Partner, Deloitte
Melissa Coomber-Bendtsen: CEO, YWCA Regina Inc.
Meara Conway: MLA, Regina Elphinstone-Centre
Jada Yee: Director of Business Development, FHQ Developments
Sandra Masters: Mayor, City of Regina

You don't want to miss out on this special opportunity to see who will sashay away and which celebrity performer will take home the crown.

It's more than just a night of entertainment. It's an opportunity to make a powerful statement to LGBTQ2S+ youth, letting them know they are home in Regina.