Roy Orbison and the Everly Brothers Reimagined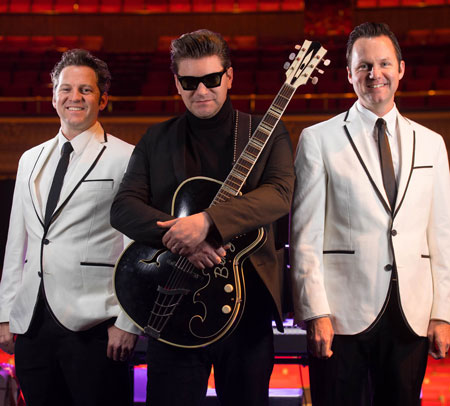 What if one of the most famous male duos of the 50's and 60's performed alongside one of the most iconic voices of all time? The Everly Brothers and Roy Orbison crossed paths more than a few times in their prolific careers but not much is documented. "Orbison & The Everly Bros. Reimagined" combines this unique vision for an unforgettable night of career spanning hits.

Benjamin D. Hale as Roy Orbison

Benjamin D. Hale played the part of Johnny Cash in Harrah's MILLION DOLLAR QUARTET in Las Vegas. As a lifelong Cash and country music fan, it's a role that suits him just fine--although he's not all country. He just finished a six year run (3,000 performances!) as an understudy (Raoul) in PHANTOM OF THE OPERA at the Venetian. He has an incredibly wide range, from the low growl of Johnny Cash to the high operatic notes of PHANTOM, and everything in between. He plays the guitar, harmonica, bass, and the dobro. He writes his own songs and knows his way around the recording studio. He has been in more bands than you can count, playing rock, folk, country, and blues. Currently his band Crimson Balladeers is a blend of Americana, country and rock.


Alex Chamberlain as an "Every Brother"

Alex Chamberlain is a professor of Photography at Dixie State University in southern Utah. Alex hopes someday to be a stay-at-home uncle. After marrying his High-School Sweetheart, his home soon became infested with 4 children despite his having the house sprayed regularly. Alex loves dieting, taxes, jogging and papercuts. He has written a novel, made several short films, built an electric car, and has built a life-sized R2-D2. He is a published writer and an award-winning photographer, and artist. As one half of the Everly portion of the show, Alex considers himself blessed to be able to sing and play with his brother Nic.

Nic Chamberlain as an "Every Brother"

Nic has been singing and playing professionally around the West for well over a decade. Whether it's opening for the Beach Boys, Styx and many others, or playing bluegrass at festivals, Nic always brings crowds to their feet with his high tenor vocals and driving instrumentation. He lives in Southern Utah with his wife and 5 children. By day he practices law but asks that you forgive him for such a grievous sin.